Reading Time:
3
minutes
please, input your country of residence : Country : Nigeria
Adelere Adesina
My Case Histories II
Today's share is something I have said a lot, but for the first time, I'll actually show it. It is said that a picture is worth a thousand words, so I'll say very few words. My story is about the results I have had with my finances.
In That Which Already Has Been, Neville said, 'Do it with funds you do not now possess. Nothing has quite the same smell as money, or the same sound. If it is money you want, use every sense to make it real. But do not say: "I perceive it because I know it is there." To exercise the Imagination you see something that is not yet there.'
I KNOW what Neville is saying by experience, and when I teach it, I'm NOT talking theories. But you too must be a doer. So, here's my story.
My Second Story: My Income Multiplied Drastically
Alright, I am Nigerian. In my country, the minimum wage is #30,000 officially. Many Nigerian youths either try to travel overseas for better income opportunities or have multiple multiple jobs. But my financial story is exactly what I created in my consciousness.
I have been studying Neville since 2020. When I started studying, I still maintained many theories about money all that simply meant I was thinking from poverty. That year, the total receipts in my account was 1 million. In 2021, I repeated the same number as you'd see in the picture.
I repeated the same ideas about money for all my teenage years until I was 24. I wanted to change, but it did not happen. Not until in 2022, I started what Neville said here. I started to mentally see the funds.
I put aside all factors I had tried to DO to make me have money, and focused on JUST IMAGINING. I must tell you, It Felt Ridiculous at first.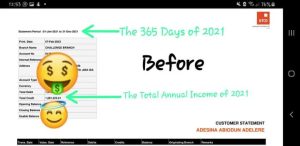 Even though I had been using my imagination all the way and got several results in revision, I didn't change my state of finances until May 2022.
May 2022, I began to think from the end and actually imagine my beloved ideas of money. This is it. In November 2021, I visited a businessman who was exceedingly successful in my city and asked him what he did exactly.
He told me only one idea. He said, 'Everyday, when I wake and before I sleep, I said to myself that I now earn #2000000 monthly from my business, and I didn't even realise it when it happened. I just discovered one day that I am already earning it.'
It was in May 2022 that I understood he had applied his inner speech to his finances. Then I began to practice it.
By July 2022, I was a monthly millionaire, exactly as I began to imagine.
It is not merely wishing for it. You must believe to the point that you are natural with being a millionaire or so.
Now, check the images. In one image, I showed that by 2021, my annual receipts was about a million naira. In this January 2023 alone, the second image shows that my income exceeds 2 million naira. That's twice what my annual income used to be.
If you ask me, I have only one explanation. Imagination Creates Money. I knew what I wanted. Then I imagined it and I kept imagining it until it became fact in my world.
Can you imagine it so intensely, so proudly that you're lost in the idea of your accomplishment? Then all multiplications are possible to you too.
This miracle is nothing like what's coming, for with my new desire is my renewed imaginal act which I will come back to share with you.
Until then, multiply your income as you wish! It costs nothing to imagine
Yours royally 👑,
Adelere Adesina 🤴🏿