Reading Time:
9
minutes
More than anyone I know, the effortless way interests me. It is the way I always love to pursue the accomplishments of my objectives. As a son, a brother, an employer and now a husband, one of the core objectives in my life is to have more than enough money to fulfil my responsibilities to the people in my life to whom I have responsibility. I found the effortless way to do that when, one day, I applied the principles from the Effortless Way in the Power of Awareness by Neville (coupled with the lesson in the Secret of Feeling from Freedom for All) to make money within twenty-four hours. Then I did it again and within seven days, I received money thrice to cover the expenses I had at the time, and leave me with more left. Each receipt was out of nowhere because I wasn't calculating it, I wasn't banking on it nor expecting it. And in the manner which each came, it was in a mutually beneficial manner and respectful. I knew I had found a certain way to make money the effortless way.
On August 18th 2023, I released this receiving money exercise in the coaching clinic, Manifest Your Financial Freedom for people who followed the coaching clinic activities. It is wonderful to witness so many people who applied it, for within seven days of releasing this exercise, there are fifty (50) success stories (as at the time of writing this). I want to share the success stories with you. The slides are all screenshots and the fonts are tiny, but they will be captioned in a sentence that summarises each of them. Before I write them out though, it would be great to share the exercise here again. And I believe that you would take it and apply it step-by-step as suggested.
HOW TO RECEIVE MONEY WITHIN TEN DAYS
This has happened for many people literally in minutes. But the highest incubation period until anyone experiences it is ten days when the instructions are correctly followed.
First, decide that you want to receive money. Then imagine that you receive money. Here are the steps.
Decide that you want to receive money electronically.
Choose which bank account of yours the money would arrive in.
Identify the notification system that you usually have when you receive money into this account.
For example, PayPal & Stripe use phone quick notifications, some banks use email, and some others use SMS. Which does your bank use for your account?
* In the case where you do not receive notifications but always have to check your bank account yourself, there is always an indicator from your bank to represent that you have received money. Such as a green highlight, a plus sign or an 'incoming' note. Use this.
Relax yourself in your chair or on your bed. Hold nothing in your hand physically (keep your phone away from you).
Close your eyes and picture the notification. Don't see any specific amount, but see the notification details/indicator that you have received money.
Vividly hold your phone in your hand, and keep seeing the notification. Feel the weight of the phone on your hand and Keep seeing the notification.
In your imagination, put your phone down on a platform (table, etc.).
Repeat what you just did from no. 5 to 7.
When you are convinced by the single idea that you have money, drop it. Carry on with your daily life.
I have used this exercise with emails, SMSs and push notifications from the first day I saw that it worked. And it has kept bringing me money effortlessly. Now, there are 50 success stories here below. See each one of them.
50 SUCCESS STORIES IN SEVEN DAYS OF IMAGINING RECEIVING MONEY
I shall keep each person anonymous by blurring out any of their details including their names, but leave the initials of their names. Let us for a moment feel thankful to these friends who shared their stories with so much joy and enthusiasm that inspired and will continue to inspire so many more people that IMAGINATION CREATES MONEY.
M. applied the exercise and got ZAR200.00
From South Africa
S. received an e-transfer unexpectedly from a friend within an hour and a half.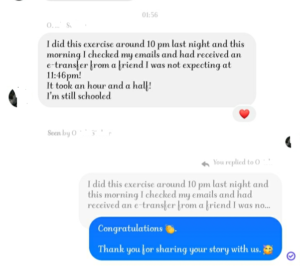 G. received a dividend after doing the exercise.
From India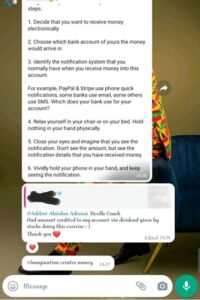 Q. A. received 4858 rupees, and this is a manifestation where they didn't see it on others but accepted it for themselves.
From India
N. received money twice within 48 hours of doing this exercise.
C. did this exercise and received $100 out of nowhere within four days of doing the exercise.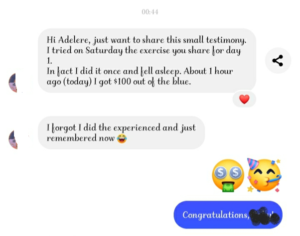 N. used this exercise and received money thrice in a day, the amount of MK2000, $35 and $2, the first amount came from a payment from a sale stuck for a month.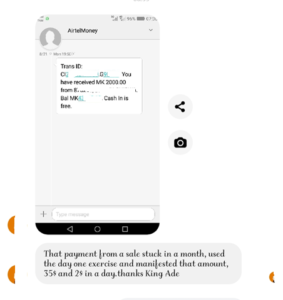 B. A found 100 Nepalese rupees just on the road after doing the exercise.
From Nepal
K. received $200 expectedly and $29 unexpectedly since starting the exercise.
From the USA
I. received a refund on a delivery within moments of doing the exercise.
From the UAE

S. M. received money for the second time from this exercise.
From India

K. received money from a client who had formerly asked for consultation fees without payments, but she paid on her own after this exercise.
From India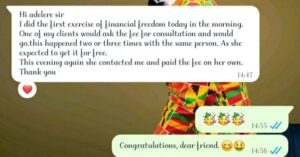 J. did the exercise and received an email for money sent to her account.
Y. did the exercise and received the money.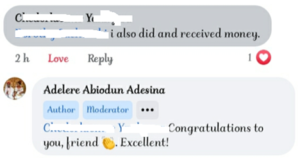 Dr P. S. received 20k within eight hours unexpectedly after her first exercise.
M. did the exercise and woke up to have received NGN5000.
From Nigeria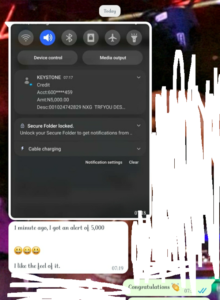 F. did the exercise the night before and received money unexpectedly with delight.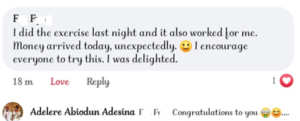 S. received two payment notifications just as she had imagined.
From South Africa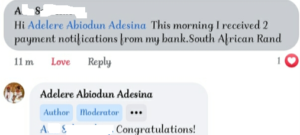 H. has a friend who got 50EUR following the exercise.
I. did it again the second day and received still more money.
From UAE
X. applied the exercise and received 3,000SGD in three hours.
From Singapore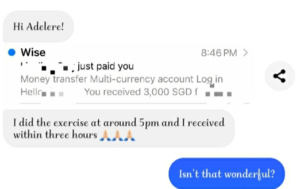 S. received money twice with this exercise from her PayPal and sales.
From South Africa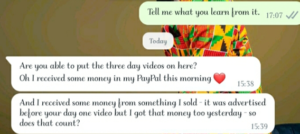 J. O. received a cheque which usually took weeks, but now a week early after the exercise.

M. M. received $200 from an uncle she's not spoken with for a while just three hours after imagining a Zelle notification for receiving money.
M. received a four-figure cheque in the mail after doing the exercise.
From the USA

M. continues to receive money even though the notifications did not pop up yet.
From the Netherlands
E. received 14 GHS after doing the exercise.
From Ghana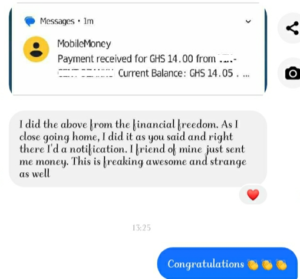 R. did the exercise and received 40EUR.
K. received money in cash from doing the exercise.
A. received a $200 credit after doing the exercise. And she still had another cheque in the mail for a $9 refund.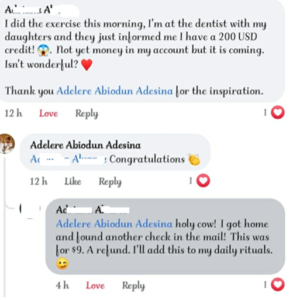 C. received money twice from this exercise, first in 20 hours and second another 24 hours later.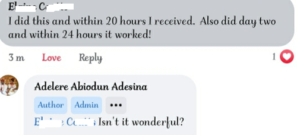 Dr. P. S. received another money from the application.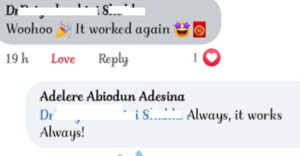 G. did this exercise with her husband and the husband received a bonus from work due for Friday.
From South Africa

S. Y. uses the exercise continuously and has continued to receive money.
E. applied this exercise and received money twice, one expectedly and the other unexpectedly.
From the USA

M. received money for the third time from this exercise.
From India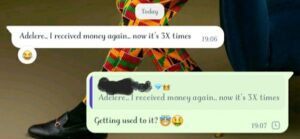 K. I. did the exercise and received money on the third day.
Z. did it twice and received money twice, once electronically and once in cash.
M. did the exercise and received the money in her account three days later, even without notifications.

S. got a text message indicating that money was sent to them after the exercise.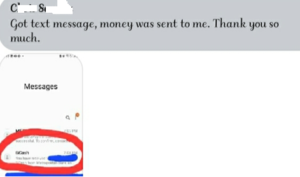 A. P. has continued this exercise for five days and received money unexpectedly twice, alongside other non-monetary gifts.
B. did this exercise and received money five times within five days.
From Nigeria
O. received money three days after beginning and continuing the exercise.
From Nigeria
C. received money two more times, $100 making $300 from beginning the exercise and three times receiving money unexpectedly.
S. Y confirms receiving money four days in a row from the beginning of the exercise. It is easy and unbelievable.

T. ZA followed the instructions of the exercise even though he already had a business that brought in money receipts every day with notifications, and in doing so he received cash unexpectedly, a modality of receiving money that was not of his business and money not from his business.
W. received 1500 EUR three days after practising this exercise.
R. B. received 230 EUR from a loved one who had owed them the sum, and who sent even more than owed. It was a loving experience.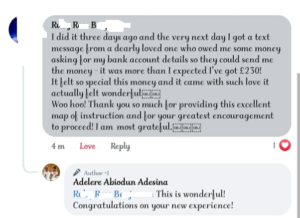 M. A. did this exercise and received money twice the following day. He received both 1,500 NGN in cash and 7,000 NGN in bank deposits, which were unexpected.
M. A. received a notification for an incoming 175 USD after a few days of practice.
These incredible stories remind us of one astounding fact! IMAGINATION CREATES RICHES. It is only a question of whether we apply our imagination to successfully bless ourselves with riches.
Love is the perfect motivation. Just think of how much love you may shower yourself with all the experiences in this world when you have the money to pay for them. How about the joy of paying. And if you were in similar shoes as mine, you know you are a child, a spouse, a parent, a relative and you have obligations for the pleasures of the people you love. Well, why not be RICH by the power of your imagination, without lifting an extra finger?
To be released on 10th October and now available for preorder, RICH is the ebook which details practical exercises that teach you the Imagination steps by which you make money, abound in riches and be the blessing you wish to be in this world.
Get yourself two copies at least, one for you and one for someone you love most dearly.
Yours royally 👑,
Adelere Adesina 🤴🏿